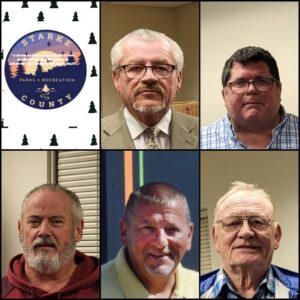 Starke County Park Board President Richard Ballard is an attorney with a law practice in Knox, IN.  He was appointed in 2020 and his goal is to make Starke County even greater than it already is.
Rik Ritzler is one of our board members.  He is the Estimating Department Manager at Traffic Control Specialists at the Knox, IN corporate office.  Rik lives at Bass Lake and wants to create a long-term plan for the future of Starke County Parks, that advances on the strides the county has already made. He's been on the park board since 2019.
Karl Swihart has been a county park board member for almost 2 years.  Karl is also the Parks Superintendent for the city of Knox.  Karl has been involved in Parks & Recreation for the past 25 years as an executive director, recreation director, and park superintendent.  Karl also owns his own business located in Knox (Indiana NSA Fast Pitch).  Karl's goal for the county parks is growth and development of properties and programs, while maintaining and improving existing properties.
Tom Busch is the Park Board Vice President.  Tom retired from CBOE Global Markets in 2019 after nearly a 40-year career and moved full time to Bass Lake.  Past post commander American Legion Post 1259. Previous community services include Sauk Village, IL town council 1988-1995 and former plan commission member St. John, IN.  Toms goal is to be involved with the Starke County Park Board to contribute and help improve bringing a positive focus to all the park properties in the county.
Sam Byer is the newest park board member, appointed in the fall of 2022.  He has a background in police work serving Knox and Kingsford Heights.  He is currently with the Starke County Sheriff Dept. as court security.  Sam has over 30 years' experience in HVAC, plumbing, and industrial maintenance.  Sam is a life long resident of Starke County.  He has two children and numerous grandchildren in nearby communities.  Sam would like our park system to be something our residents and their families will use and be proud of.